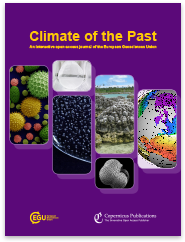 Co-editors-in-chief: Nerilie Abram, Laurie Menviel, Denis-Didier Rousseau & Marit-Solveig Seidenkrantz
Climate of the Past (CP) is a not-for-profit international scientific journal dedicated to the publication and discussion of research articles, short communications, and review papers on the climate history of the Earth. CP covers all temporal scales of climate change and variability, from geological time through to multidecadal studies of the last century. Studies focusing mainly on present and future climate are not within scope.
CP per-paper APC pilot 2021
To help authors know the article processing charges (APCs) levied for their final journal article already from submission, the EGU and Copernicus test a per-paper APC model for manuscripts submitted to CP from 1 January 2021. The standard fee will be €1,600 net, independent of the article length. Please find
further information
about this pilot.