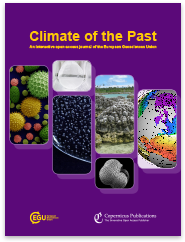 Co-editors-in-chief: Laurie Menviel, Irina Rogozhina, Denis-Didier Rousseau & Marit-Solveig Seidenkrantz
eISSN: CP
1814-9332
, CPD
1814-9359
Climate of the Past (CP) is a not-for-profit international scientific journal dedicated to the publication and discussion of research articles, short communications, and review papers on the climate history of the Earth. CP covers all temporal scales of climate change and variability, from geological time through to multidecadal studies of the last century. Studies focusing mainly on present and future climate are not within scope.
Recent papers




Highlight articles








Notice on the current situation in Ukraine
To show our support for Ukraine, all fees for papers from authors (first or corresponding authors) affiliated to Ukrainian institutions are automatically waived, regardless if these papers are co-authored by scientists affiliated to Russian and/or Belarusian institutions. The only exception will be if the corresponding author or first contact (contractual partner of Copernicus) are from a Russian and/or Belarusian institution, in that case the APCs are not waived.
In accordance with current European restrictions, Copernicus Publications does not step into business relations with and issue APC-invoices (articles processing charges) to Russian and Belarusian institutions. The peer-review process and scientific exchange of our journals including preprint posting is not affected. However, these restrictions require that the first contact (contractual partner of Copernicus) has an affiliation and invoice address outside Russia or Belarus.